A decade ago, making personal connections with people on your website was no more than a pipe dream -- the technology simply wasn't available.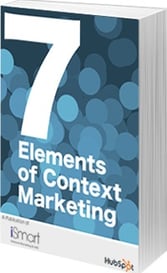 Today, we have the technology to truly deliver the right message to the target at exactly the right time. Today is the day of context marketing. And it will fundamentally change the way we do business… again.
Download this FREE new online book to learn the 7 elements of context marketing that you could start implementing right away to create a more personalized experience for your audience.
You will learn:
What Context Marketing is

The 7 Key Elements of Context Marketing

How Companies Have Used Context in Their Marketing

How to Implement Context Marketing for Your Company
Fill in your name and e-mail address on the right to download your free ebook and discover how you can achieve success too!