Stay on top of the latest sales tips, trends, and best practices.
Join our panel of Inbound Marketing experts and thought leaders by subscribing to the iSmart Communications blog to receive great marketing content delivered right into your inbox!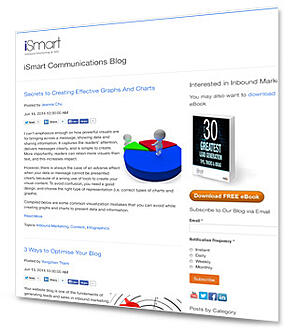 iSmart Communication blog covers everything you need to become an Inbound Marketing master. This email notification feature is designed for professionals who are too busy or forgetful to visit our blog, but would not mind a gentle email reminder to read up on what's new once in a while.
It is yet another way for us to engage you intimately so you can stay on top of your game!
Simply fill in your email address and select your preferred Notification Frequency to the right of this page and look forward to your first Inbound know-how email very soon!